Customs-Trade Partnership Against Terrorism (C-TPAT)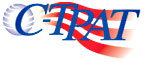 C-TPAT is a joint business-government initiative to build a cooperative relationship strengthening overall supply chain and border security. U.S. Customs & Border Protection is asking businesses to ensure the integrity of their security practices and communicate their security guidelines to their business partners.
One See Solutions Inc. will assist you with the C-TPAT application process. We will walk you through the entire process from application to validation.
Our process includes:
Interview of your company to understand your operational procedures and your business practices

Develop your security profile

Preparation and submission of your executive summary to CBP

Prepare and send a Questionnaire for your business associates and Critique responses from your business associates and vendors

Make recommendations to you, your business associates and vendors to better secure the supply chain process
Compile and Submit Application
Act as an intermediary for C-TPAT issues with the Customs & Border Protection
Benefits:
Reduced number of inspections
Access to the C-TPAT membership list
Exclusive C-TPAT member seminars and events
Emphasis on self auditing
Enhanced security procedures
Be an active participant in securing our nation
Contact us at info@one-see.com or call 908-276-0077